Spanish Terrcota Saltillo Tile Floor Sealing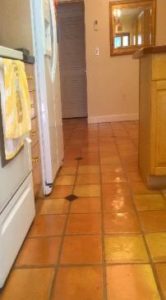 Our Mexican tile cleaning & Mexican tile polishing services will vary depending on the condition & needs of your floor. Stripping Mexican tile or terracotta stripping is not always necessary and is very labor intensive if it is done properly. Having to strip is rare and due to the intensive labor, time & hazardous chemicals comes at a high cost to you. It is done each and every tile and grout line one by one by hand. Acid is used by many other companies. This will change the color of the Mexican tile or terracotta and damage the surface of your floor. Usually a scrubbing is all that is needed. Use Huntington Stone Floor Polishing for all your Spanish Terrcota Saltillo Tile Floor Sealing.
If you have been placing years of store bought wax type products on your floor, the build up will need to be and can be stripped with a machine. This is also fairly labor intensive.
Most of the time a professional cleaning of Mexican tile, Mexican tile sealing and polishing Mexican tile is all that is necessary to give your floor a great appearance. Terracotta cleaning, sealing & terracotta polishing as well.
If Mexican tile stripping is absolutely necessary, we will let you know. We clean Mexican tile, re-seal and polish Mexican tile or polish terracotta with a minimum of ( 3 ) coats of a low gloss, semi gloss or high gloss finish. Exterior tile a low shine polyurethane or a penetrating sealer is used due to slippery conditions and can only be done in dry weather conditions. Whether you have Mexican tile ( saltillo ), Spanish or Italian terracotta tile, we will provide the cleaning, sealing & polishing service that is right for your floors.
   We Cleaning, stripping, sealing, polishing, restoration & refinishing of Mexican tile, saltillo & terracotta.